Susan Allan's Heartspace™ Training Checklist
Are you asking "How to fix my relationship or marriage?". Would life be more wonderful if I could teach you to save your marriage and avoid divorce? Do you know how to motivate and inspire everyone so that your key needs and theirs are met; creating real long-term solutions? Here is a list of the key tools and skills I offer clients and you can learn them, too. Each of us begins learning with a different brain; with varying skills; and with dissimilar levels of motivation. Your speed in mastering all these tools is your own "thumbprint" based on numerous factors because as humans we share the ability to change our brain for every minute of our lives. How you develop your brain and enhance your life is based on inheritance and now is your chance to learn new ways to create the life you have always dreamed about and you can begin NOW!
Prodating©
Learn to pick the right online profile for you
Create a fabulous profile so that you finally reach a great date or/partner
Master seductive emails and texting so that you receive replies
Meet wonderful people who are interested in you
Successfully find the relationship of your dreams
Be engaged, living together, married, and/or a parent as per your Goals
Goal-reaching Skills©
You no longer set goals; now you reach them
Learn the right words to think and speak about to finally reach your goals
Master inner peace which is essential to reach big goals
You must stick with your Goals and keep focused until you each them
Reach Goals that you have set within the timing you set and now you'll know how to accomplish this for the rest of your life
Marital Mediation©: "How to fix my relationship or save a marriage?"
Since you can't have a mediator move in with you learn to mediate and even prevent your own conflicts
Resolve all partner conflicts using these unique partner mediation skills
Use a Healing Matrix of thinking, listening, speaking, & action providing 100% reconciliation when just 1 partner is trained
Learn The 6 Part Conversation© so that you are always motivating and Inspiring cooperation
Enjoy all the peace you desire
Know what words to avoid and what words to say to everyone
The 6 Part Conversation© so that you quickly shift from upset to solutions
Learn 6 Parts of a conversation that always create a peaceful conversation
This allows you to motivate and inspire others whenever you speak
Part I Self-empathy- learn to calm yourself to avoid problems
Part II Empathy- allows you to calm others when they are angry, frightened or sad
Part III Self-expression- when you speak you'll know to say what works and delete the rest
Part IV Reflection- and Part V Clarification- so that you can work out the small details of every situation
Part VI Solution- you will be able to generate any agreement if you use Part I-V and then together the solution will become clear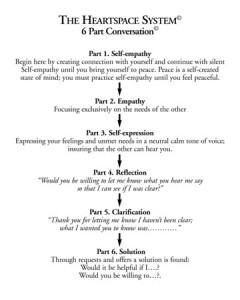 Whole Brain Thinking™
This skill-set is based on Herrmann Brain Dominance™ is used by 90% of the Fortune™ companies
Learn what people do when they're stressed so you can prepare for it
Recognize how people think before you communicate with them so that you can always avoid an argument
Calmly communicate with everyone in each conversation and in writing
Discontinue the search for what you want where you cannot possibly find it
Transform each communication into a positive one so that you create your future